HOME
WILD SURVIVOR QUEENS

VSH / SMR / RUSSIAN
PACIFIC NORTHWEST WILD SURVIVOR STOCK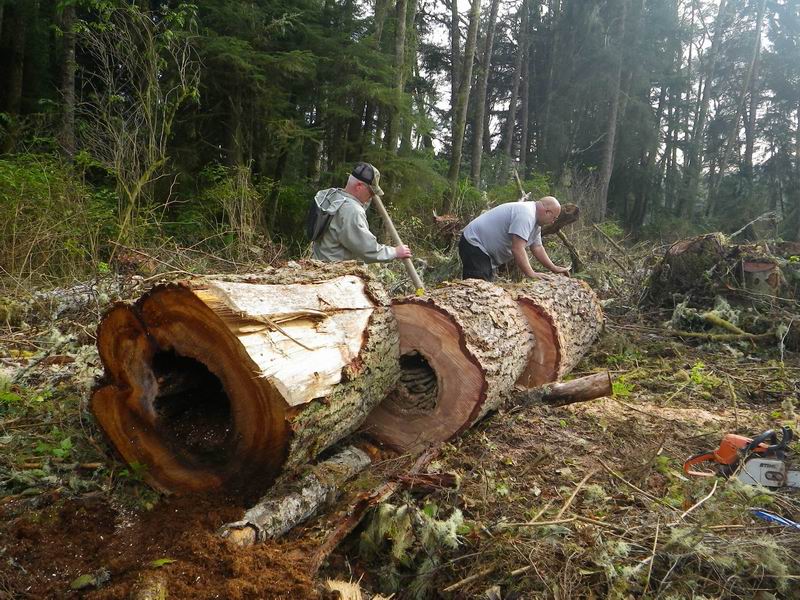 Cooperation w/ our local eco-friendly loggers nets another isolated wild swarm!
---
TRANSFORM YOUR COLONIES
REQUEEN WITH OUR TESTED & PROVEN STOCK:
HARDY & HYGIENIC - DISEASE & MITE RESISTANT
OUR BEES WORK AT COOLER TEMPERATURES
ABUNDANT DRONES - ISOLATED MATING YARDS
SELECTING FOR NOSEMA TOLERANCE SINCE 1997
16 YEARS NO CHEMICAL MITICIDES - 8 YEARS NO FUMAGILLIN
---
FOR SALE:
OWA Select Mated Queens; Virgin Queen Cells; & Breeder Queens
We are Queen Breeders located in the uniquely isolated micro-climate of the North Olympic Peninsula of Washington State. We began our WILD SURVIVOR BEE BREEDING PROGRAM in 1997 when feral bee populations were thought to be near extinction due to varroa mites. We successfully captured wild swarms from remote locations; evaluated their resistance characteristics; and gradually enhanced their performance with the selective introduction of USDA Russian and SMR/VSH queen lines to achieve a unique northern-bred feral hybrid queen stock that demonstrate genetics capable of withstanding many of the lethal pathogens that threaten honeybees everywhere.
OWA BREEDER QUEEN SELECTION CRITERIA:
We graft from untreated colonies whose queens have been overwintered for a minimum of one season, and have passed our strict standards for these following traits:
Minimum of 95% removal of freeze-killed brood in 24 hours
This trait will reduce or eliminate Chalkbrood; AFB; and varroa mite levels w/o the use of chemical treatments
Varroa Mite Resistance:
VSH trait is determined by Alcohol Wash Assay during spring brood build-up and fall peak mite infestation.
Grooming Behavior
is determined by Alcohol Wash Assay during the winter broodless period

Nosema Tolerance:
Extreme Pollen Hoarding Behavior enables our untreated stock to remain vigorous in spite of high levels of nosema ceranae. Our selection process is verified by in-house microscopic testing and USDA Laboratory reports.
Exceptional survivability