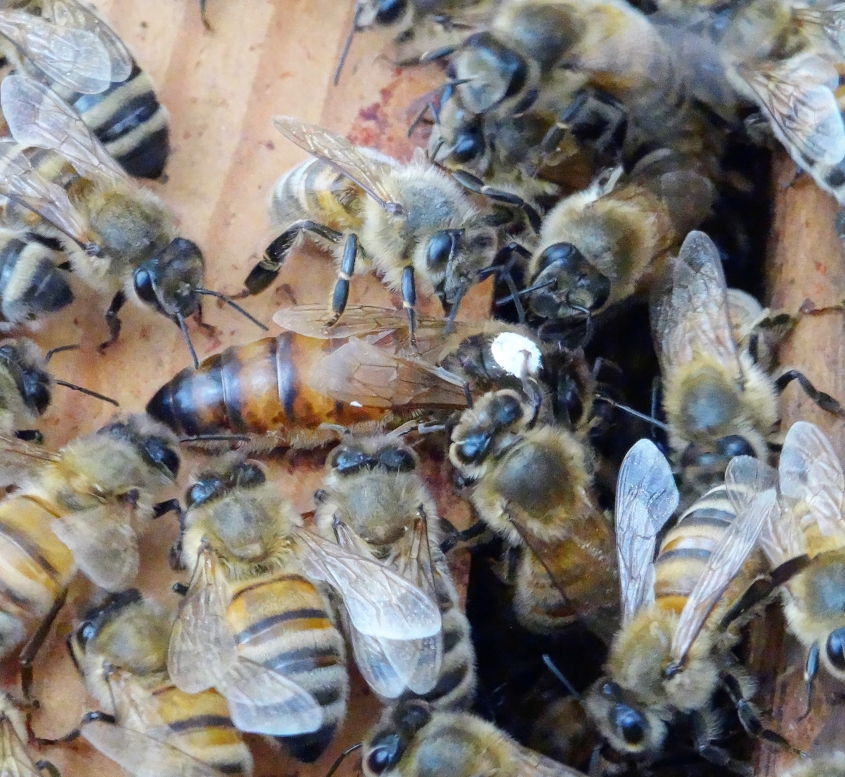 Pricing – Ordering – Availability
We are currently accepting orders for
2023 FALL BREEDER QUEENS
Call to Place an Order:
360 928 3125
---
ABOUT OWA SELECT HYBRID WILD SURVIVOR QUEENS
Our queens owe their exceptional hardiness to careful preservation of pioneer stock originally introduced to the remote Olympic Peninsula of Washington State by early settlers over a century ago. These unmanaged feral colonies had been thriving in continual isolation, adapting to the harsh fungus-rich environment of the world′s largest temperate rain forest.
Decades of natural selection, in these cool damp conditions have created resilient survivors with excellent mite-resistance, hygienic behavior,
All our queens are grafted from carefully-selected breeder stock, naturally-mated to our Wild Survivor Drone lines which are maintained to be the predominant genetics of our closed-population mating yards.
By selective inclusion of VSH/SMR;USDA Primorsky Russian; and Caucasian stock acquired from proven reliable sources, we consistently produce a hardy hybrid-cross that exhibits the most desirable traits of each.
For more about the history and details surrounding our feral stock, read here…
2023 OWA Wild Survivor
Fall Breeder Queens
ACCEPTING ORDERS NOW
1-3 Breeder Queens – $350.00 ea + S/H -Payment in full due at time of order
4 – 11 Breeder Queens – $300.00 ea + S/H
12 + Breeder Queens $250.00 ea + S/H
-TO PLACE A CONFIRMED ORDER CALL, & LEAVE A MESSAGE
360 928 3125 –  WE WILL RETURN YOUR CALL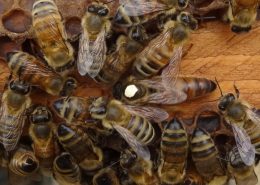 4 -5  Frame Nucs
with Established
Wild Survivor Breeder Queen
$500.00  Payment due at time of order
(Note:  These are for Local Pick-up Only)
-TO PLACE A CONFIRMED ORDER CALL, & LEAVE A MESSAGE
360 928 3125 –  WE WILL RETURN YOUR CALL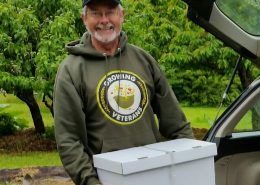 Queen Shipping Details
USPS Postal Option is available for Washington, ONLY :
Queens:   $20.00  1-3 day U.S.P.S. Flat Rate Priority Mail (within WA only)
 Queen shipment to all other states MUST be shipped UPS NEXT DAY AIR @ an average charge of $40.00 to $55.00/ shipment. – ACTUAL PRICE  will be quoted prior to shipment based on weight and distance.
   Nonrefundable  payment in full is required at time of order.

If for any reason OWA is unable to fulfill your order, your pre-payment will be refunded in full.

WE DO NOT ACCEPT INTERNET/ WEB ORDERS -all orders must be placed by calling 360 928 3125. If we are not available to take your call, please leave your name and telephone number. We will return your call as soon as possible.

We accept Cash; and Credit Cards:  Visa &  Master Card; (no personal checks without prior approval)
We make every effort to assure that your queens arrive in good condition, but: 

WE DO NOT GUARANTEE SUCCESSFUL INTRODUCTION.
If your queens arrive DOA, notify us immediately.  Replacement/reimbursement is at the discretion of OWA
All prices subject to change without notice.