Queen Introduction Checklist
---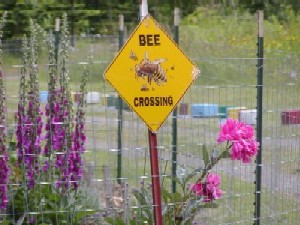 Olympic Wilderness Apiary
Queen Introduction Checklist in an existing hive:
Special precautions are necessary for success
ALL OUR QUEENS HAVE DIFFERENT PHEREMONES, REQUIRING A LONGER TIME FOR BEES TO ACCEPT THEM
.
We take great care in packaging and shipping our queens, making every effort to assure that they arrive in good condition, but WE DO NOT GUARANTEE SUCCESSFUL INTRODUCTION.
IT IS IMPORTANT TO NOTE that even the best of Q's cannot save colonies already heavily infested with mites. We recommend pre-treating with "soft" controls such as Apilife Var©; Apiguard©; Hopguard©; Formic Acid, Oxalic Acid, or (the least effective method) powdered sugar dusting approximately ONE MONTH prior to re-queening.
When your queens arrive they should be placed into colonies within a week. Do not remove your existing queen until you have your new one in hand.
Prior to introduction, keep cage out of the sun, at room temperature. If unable to install promptly, give one drop of water per day taking care not to wet the candy.
3 to 24 hours prior to introduction: REMOVE: OLD QUEEN/ VIRGIN QUEENS; AND ALL QUEEN CELLS. (Throw the dead queen away from the hive, NOT back into the colony)
If there is a poor honey flow, set up your supplemental feeding prior to installing queen,

using feed stimulants that contain additives such as lemongrass when introducing a queen during a dearth, as this can contribute to "robbing"

.
DO NOT REMOVE, OR POKE A HOLE IN THE TAPE ON WOODEN CAGES. & DO NOT REMOVE "CAP" FROM PLASTIC JZBZ CAGES! - DO NOT REMOVE ATTENDANT BEES FROM CAGES

.
Wedge the queen cage, snugly between 2 frames in the center of the brood nest, candy plug UP, taking care to leave the screen accessible to the bees. After placing the cage, DO NOT DISTURB COLONY for 5 days.
RETURN ON THE 5TH DAY. AT THIS POINT BEES SHOULD NOT BE "BALLING" THE CAGE: (…ACTING AGGRESSIVELY; BITING THE SCREEN ETC.) If they are, inspect more closely, you may have a 2nd queen. BEFORE REMOVING THE TAPE: check for and destroy any new queen cells; then you may REMOVE THE TAPE (or plastic cap) but DO NOT POKE A HOLE IN THE CANDY.
The bees will chew through the candy plug in a day or two, quietly releasing the queen.
AT THIS POINT, DO NOT DISTURB THE COLONY FOR AN ADDITIONAL 10 DAYS – EARLY DISTURBANCE WILL INCREASE THE RISK OF NON-ACCEPTANCE OR SUPERCEDURE!!!
·
A SPECIAL NOTE IF REQUEENING IN THE FALL OR DURING A DEARTH IN NECTAR FLOW
: provide the new queens with adequate drawn comb if available, to lay a healthy cluster of winter bees. Provide a constant food source of protein patties and 1:1 sugar syrup to stimulate queens to continue to lay until they shut down for the season.