Queen Prices-2017
---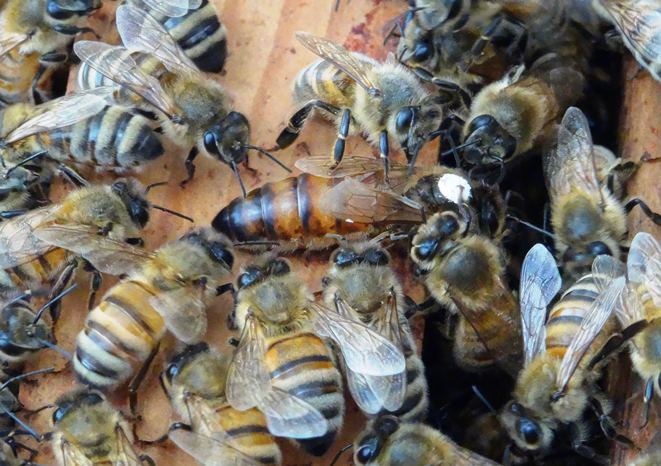 To Order: Call (360) 928-3125
We ship UPS NEXT DAY AIR anywhere in the United States.*
NO PACKAGE BEES.
About Our OWA Select Hybrid Wild Survivor Queens:
Our queens owe their exceptional hardiness to careful preservation of pioneer stock originally introduced to the remote Olympic Peninsula of Washington State by early settlers over a century ago. These unmanaged feral colonies have thrived in continual isolation, adapting to the harsh fungus-rich environment of the world′s largest temperate rainforest.
Decades of natural selection, in these cool damp conditions have created resilient survivors with excellent mite-resistance, hygienic behavior, and remarkable
nosema tolerance, associated with their extreme pollen hoarding behavior
All our queens are grafted from untreated breeder stock, and are naturally-mated to our Wild Survivor Drone lines which are maintained to be the predominant genetics of our closed-population mating yards.
By regular inclusion of
VSH/SMR
and
USDA Primorsky Russian
stock acquired from proven reliable sources, we consistently produce a hardy 3-way cross that exhibits the most desirable traits of each.
To place an order call: (360) 928-3125 - 8AM to 6PM (Pacific Time)
OWA Select Wild Survivor Queens:

minimum order: 3 ..............................

4 - 12 ....................

13 + ..................

$65.00 ea + S/H

$50.00 ea + S/H

$40.00 ea + S/H

Available later in the season -

Call for information

360 928 3125

TBD

Limited availability / On

-site pick up only

these will be offered later in the season

Queen Cells

minimum order: 10

Temporarily Sold Out

$20.00 ea + S/H

-shipped UPS

Overnight Only-
*All Mated Queens are "marked" @ no additional cost
Before ordering, *please realize that our queens are not for everyone…
U S Postal Option is available for WA;OR; & ID ONLY
:
U
p to 12 Queens
:
$9.00 1-3 day U.S. Priority Mail: Shipped in a Flat rate reinforced Priority Mail Envelope:
Queen shipments to any other state must be shipped
UPS NEXT DAY AIR
@ an average charge of $45.00 to $60.00/ shipment (ACTUAL PRICE will be based on package weight and distance
and will be quoted prior to shipment
.)
Our Minimum Order is $195.00
- Nonrefundable payment in full is required at time of order
All orders over $195.00 - Nonrefundable payment of 25% down is required at time of order
– remainder is due when invoice is sent prior to shipment
We welcome Checks or Money Orders -
We accept Credit Cards: Visa & Master Card
We make every effort to assure that your queens arrive in good condition, but: WE DO NOT GUARANTEE SUCCESSFUL INTRODUCTION.
If any queens arrive DOA notify us immediately. Replacement/reimbursement is at the discretion of OWA
All prices subject to change without notice.
Are your bees aggressive? before ordering,
read more>
Help, my hive is queenless, can you send me a queen right away?
read more>